Continental Divide Hiking and Biking Trail Southern Terminus Columbus, New Mexico Links

American Long Distance Hiking
Association West


Wikipedia for Bikers:
Great Divide Mountain Bike Route
Wikipedia for Hikers
Continental Divide Trail

blog entry from: dan and anna's adventures

¡Mexico!
Posted on November 15, 2010 by Anna


Finally, the long overdue blog on our finish:

We had a nostalgic and easy 2 days from Deming to Columbus. On OCTOBER 27th, we reunited with Yas (he'd done the hard-core cacti bushwack through the Florida Mountains that we'd bypassed). Yas said the bushwack wasn't too bad, but we also had to pick a dozen cactus spines out of his back from when he'd fallen on a cactus. In Colombus, New Mexico (a town known for its 1916 attack by Pancho Villa) we breakfasted before setting off on our final 3 mile road walk. Dan had made a star as a monument for our finish since Jonathan Ley's maps use stars to mark out segments on the trail. (Rather than going point to point, we go star to star… and we were approaching our final star!)


The finish was the in many ways the complete opposite of our Pacific Crest Trail finish in Canada. Instead of endless trees, there were cacti. In place of a strip of clear cut trees, there was a strip mall with a Family Dollar. Rather than solitude, Mexicans and Americans alike (along with plenty of Border Patrol Officials) milled about the streets. But the best part was rather than an 8 mile walk to civilization and food, we just had a 8 minute stroll into the town of Palomas, Mexico.


We'd debated whether or not we should enter Mexico since Palomas is nearby Juarez which is in the midst of a dangerous drug war. But in the end it seemed safe and we were so glad we decided to enter Mexico. At The Pink Store were treated like celebrities. The owner shouted out to everyone (in Spanish and English) that we'd just walked from Canada and treated us to margaritas. We dined on muy ricos burritos and fajitas as a mariachi bands played. It was the perfect way to celebrate our (approximately) 2,800 mile journey on foot from Canada to Mexico. Naomi, Mike's wife, had flown in for the occasion too. Yes, The Pink Store is a total tourist trap, full of handcrafted Mexican folk art and retired American couples, but it was heavenly! (Besides, of those retired couples bought us a round of drinks!)


It had been an amazing journey…. it was hard to believe it was actually over.
Click to read more of dan and anna's adventure's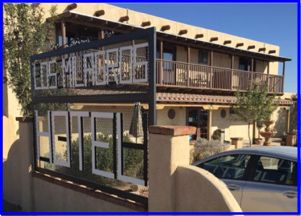 Los Milagros Hotel
Official hotel for the
Continental Divide Trail Southern Terminus Columbus, New Mexico

The Continental Divide National Scenic Trail (in short Continental Divide Trail) is a United States National Scenic Trail running 3,100 miles (5,000 km) between Mexico and Canada. It follows the Continental Divide of the Americas along the Rocky Mountains and traverses five U.S. states — Montana, Idaho, Wyoming, Colorado, and New Mexico. In Montana it crosses Triple Divide Peak which separates the Hudson Bay, Atlantic Ocean and Pacific Ocean drainages.

The trail is a combination of dedicated trails and small roads and considered 70% complete. Portions designated as uncompleted must be traveled roadwalking on dirt or paved roads.

The CDT in New Mexico is about 700 miles (1,100 km) long and some portions have very limited water. Local volunteer groups place water caches (usually a pile of plastic gallon jugs) at strategic points along the trail. Three southern termini of the trail exist: Crazy Cook Monument, Antelope Wells and Columbus, all in New Mexico's boot heel. Columbus, New Mexico, is also the northern terminus of the annual 250-mile (400 km) Cabalgata Binacional Villista.